THE Legitimate Government of IRAQ
CRUEL AND IMMORAL TREATMENT AT THE HANDS OF THE usofa
"We have been [detained] for a long time
and we have been out of [touch with] our families,
no contacts or phones,
no letters,
even no parcels --
sent to us by our families and not given to us."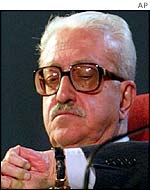 To world public opinion:

We hope that you will help us ...

We need fair treatment,

a fair investigation

and finally, a fair trial.

Please help us.