Lawyers' panel indicts Bush, Blair
Monday 07 March 2005, 19:03 Makka Time, 16:03 GMT
US President George Bush and
British Prime Minister Tony Blair

deserve life sentences,

with the possibility of parole

after 25 years,

for the war crimes and

genocide in Iraq,

according to a lawyers' panel.

Speaking on Monday at the Foreign Correspondents' Club of Japan,

Kohki Abe, a professor of law at Kanagawa University,

said they should face the "maximum penalty available".

That would not include the death penalty,

however, as the members of the tribunal

opposed capital punishment, he added.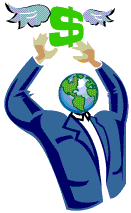 DEATH TO IMPERIALISTIC
MILITARISTIC
CAPITALISM/CAPITALISTS
Even those of us who oppose the death penalty
might relent where bush, blair, sharon, cheney,
rumsfeld, wolfowitz, rice, powell, myers, card,
and bush sr. are concerned -- line up the gurneys.